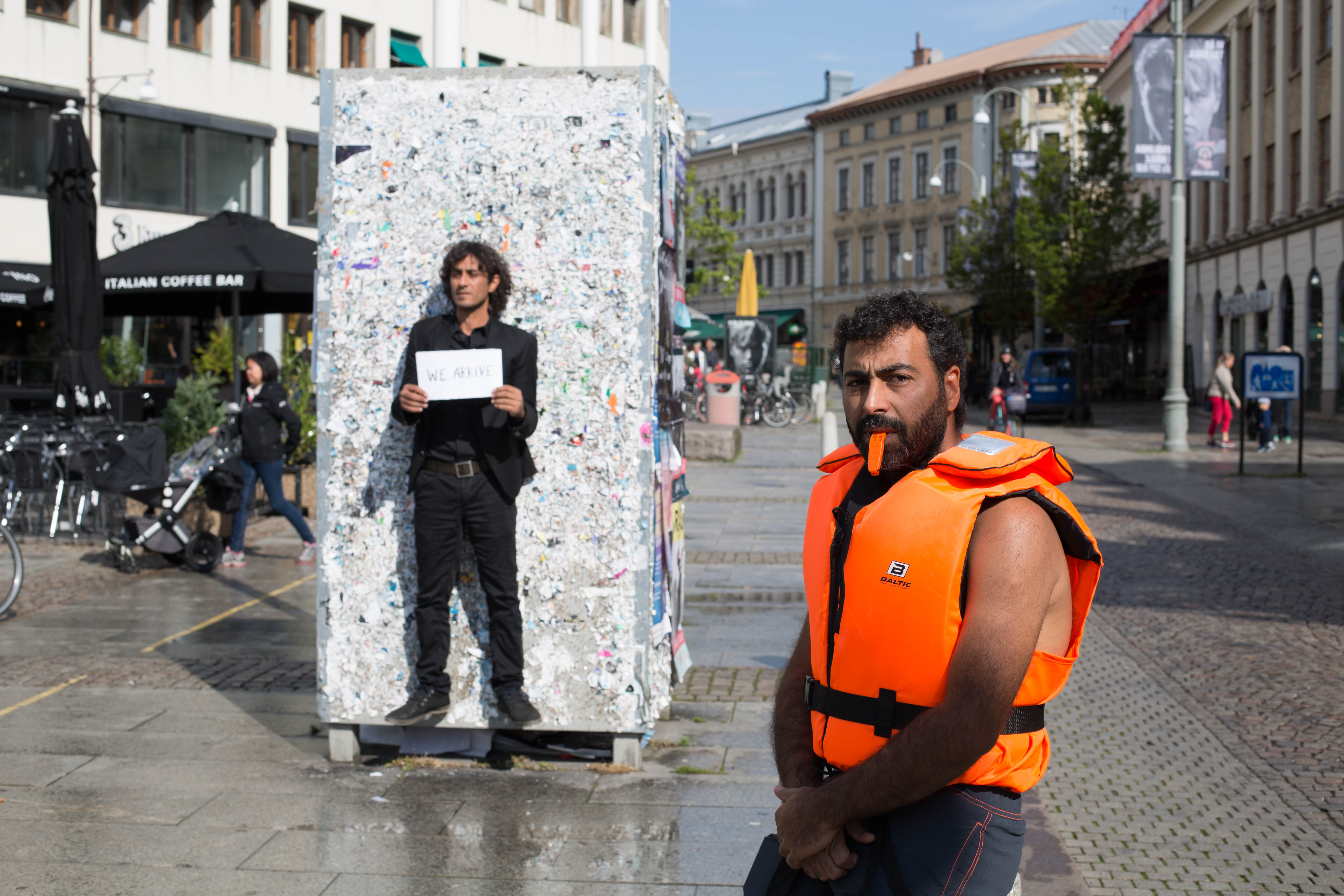 Ali Al-Fatlawi and Wathiq Al-Ameri were born in 1972 in Baghdad, Iraq. Since 1997 they live and work in Zurich, Switzerland.
Ali Al-Fatlawi and Wathiq Al-Ameri create performances, that reflect their history. They present a view from exile, combining a critical perspective with the hope of returning in their imagination back to homeland. Their art explores issues of confrontation and war. Ali and Wathiq received a classical education at the University of Fine Arts of Baghdad. Several years ago they decided to escape the regime of Saddam Hussein and embarked on an odyssey crossed the Iraq border into Jordan, where they reproduced classical and arabic paintings until they had enough money to reach Sudan. From there they traveled by truck through the Sahara to Libya and then finally to Switzerland where they studied at the F+F Schule für Kunst und Mediendesign. Also in Switzerland they formed the studio group Urnamo with Wamidh Al-Ameri to share ideas and develop their art.
Al-Fatlawi's and Al-Ameri's performances start from the same basic premise over the past 14 years. They look for material that they combine with other substances or local conditions to create unique images. For them performance art is a dynamic and experimental practice, that can produce rich and unpredictable results. Their work is sustained and renewed by the vast array of available material, variations of time and place, and diverse themes. With another art form these perspectives would not be possible. Their performances work to produce images in the moment, without translation into words. Images, moments, change, passing through a place and remaining in memory give form to their practice, and are the elements they hope to communicate to viewers. Their performance images address the audience's emotions rather than their intellect, making a pure exchange possible.
Awards
2012 Swiss Art Award, Basel 2011 Performance Art Award, Genf Performances (selection) 2015 Arctic Action1 , Svalbard, Arctic 2015 liveAction 10 , Gothenburgs, Sweden 2015 Infr'Action 3, Venezia, Biennale, Italy 2014 Mothers tongue, Helsinki , Finland 2014 INTON'ACTION 4 Angoulême , France 2014 Infr'Action 10, Sète, France 2013 Estonia:Kumu Art Museum – 17th October 2013 PERFORM NOW, Winterthur Switzerland 2013 Infr'Action 9, Sète, France 2013 liveAction 8 , Gothenburgs, Sweden 2013 Infr'Action 2, Venezia, Biennale, Italy 2012 Guangzhou live international action art, Guangzhou, China 2012 Swiss Art Awards, Basel 2012 Trouble Performance Festival, Brussels, Belgium 2012 Performance Festival Turku, Finland 2011 Performance Award in Switzerland, Geneva 2011 Performance Laboratory 03, Linz, Austria 2011 Mont der Performancekunst, im Flutgraben, Berlin, Germany 2011 Performance Workshop Museum of Fine Arts School, Boston 2011 Grace Exhibition Space, Brooklyn, New York, USA 2011 International Festival of Live Art, BMI Glasgow, Scotland 2011 International Performance Festival, Mainz, Germany 2010 Ex Machina Contemporary Arts, Geneva 2010 Festival Particules, Geneva 2009 Open International Performance Festival, Beijing, China 2009 Zoom Festival, Hildsheim, Germany 2008 Momentum Festival, Brussels, Belgium 2008 Studio Mesopotamia, Vienna.