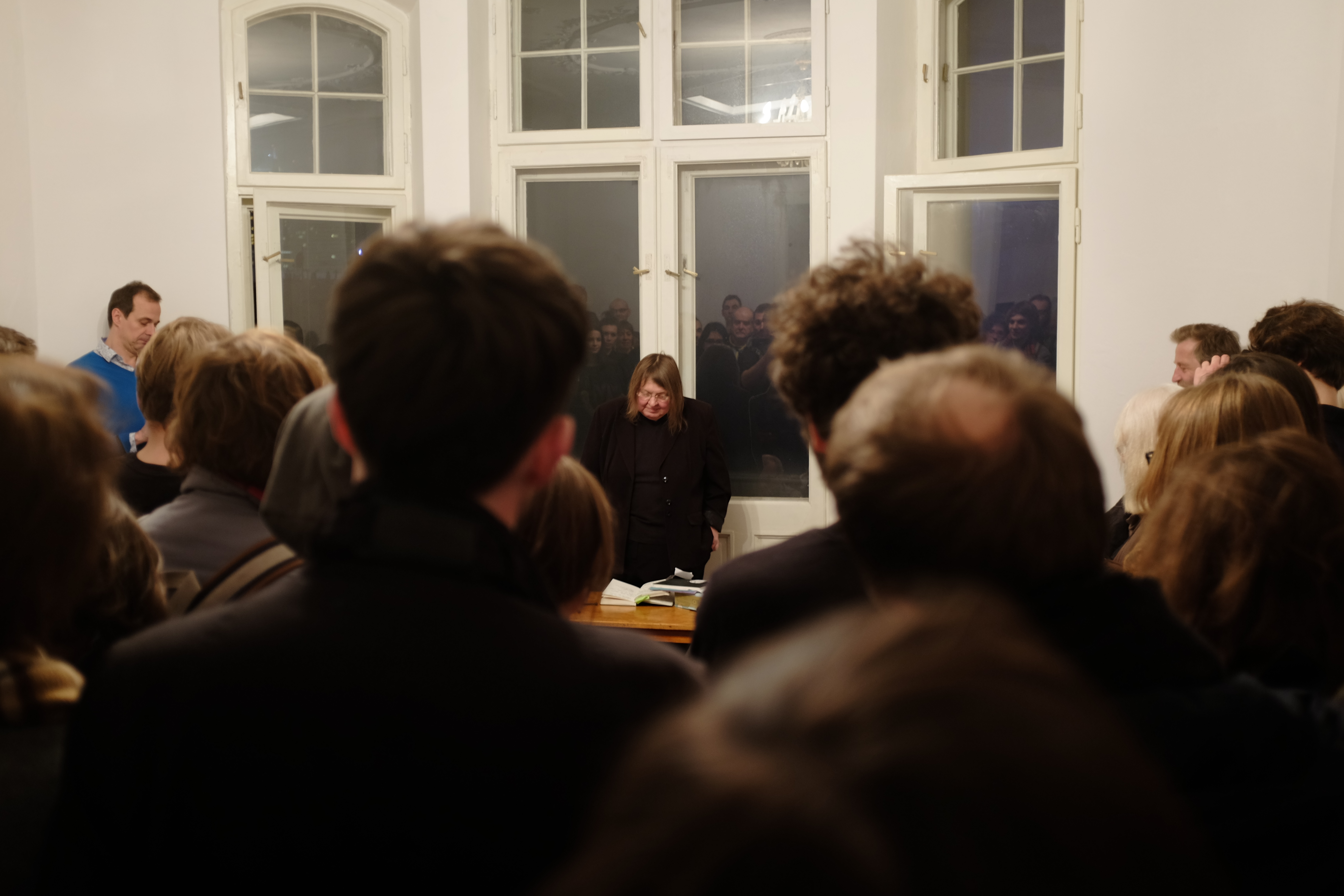 A performance artist. Also creates films, sound records, drawings and installations. The main part of her work is to keep notebooks, a sort of notes and dairies about which Zbigniew Warpechowski wrote: There is history of art, art criticism, comments, reflections, thoughts, letters to friends, jokes, prose, poetry and I? ve got no idea what else.
She was born in Szczecin. She finished Public Secondary School of Fine Arts in Lublin. She studied graphics at Public Higher Education Institution of Fine Arts in Wrocław (current Academy of Arts). From 2008 she? S associated with this academy, in which she gives classes of performance from 2009. A Scholar of Ministry of Culture and National Heritage. Lives in Lublin and Kazimierz Dolny by the Vistula.
Ewa Zarzycka cultivates spoken performance. Grzegorz Borkowski commented: Of her numerous performances [?] One can compose an outline of an intriguing essay combining seriousness and intellectual inquisitiveness with ironic distance. Ewa Zarzycka? S work is hard to comment and interpret. It? Sa process of thinking, led in a dialogue with others and opened to what happens. In Zarzycka? S understanding, creativity is conjoined with private life, meetings, events, journeys, readings. It to art itself, but also relates to the artist, to the characteristics of creation process. According to Zbigniew Warpechowski, Zarzycka? S creativity is out of any definition but at the same time it? S strictly connected to her persona, way of being, personality. Her stories are confusing, they loop, they get lost and find their way again, they pass on to different ones. You can find some sense of humor but also much of authenticity, honesty and disinterestedness.
Ewa Zarzycka? S work comes from polish conceptual art. The artist was for years related to Galeria Labirynt in Lublin and to Biuro Wystaw Artystycznych ran by Andrzej Mroczek. Her performance in project? Grodzka 5? is closely associated with artist? s private history, related to Grodzka street, where secondary school that Ewa finished used to be.
Selected performances
1980- 1st demonstration of? Manifestations? movie, Labirynt Gallery
1983-? About Potential? , Artistic Pilgrimage, Łódź
1984-? The brain does not serve to think ?, BWA Lublin, symposium? The intellectual trend in art
after World War II? with Tomasz Dobrzyński.
1984-? A woman aged 130-140, but still beautiful ?, Strych, Łódź
1985-? Cardinal and Grubaska? creators of national culture ?, STK, Łódź, with Tomasz Dobrzyński
1989- Conversations in the library ... or troubles with an 18-year-old daughter,? The Dungeons of Manhattan ?, Łódź
1991? I Stop Understanding What I Do, Center For Contemporary Art Ujazdowski Castle, Warsaw
1993? Ewa Z. in Wrocław, the capital of the prehistory of conceptual art - as an example of an artist facing the necessity to set a milestone, and the obligation to be an intellectually disturbed process, Galeria Miejska, Wrocław
1994? Duties and privileges of artists, Galeria Labirynt 2, Lublin
1994? I am an artist who speaks, writes and…, 15th anniversary of Galeria ON, Poznań
1994? A presentation as a break in the essence of the creative process, Moje Archive, Koszalin
1996? Performance in performance (with Darek Fodczuk, Miłosz Gałecki and Waldemar Tatarczuk),? A Woman About a Woman ?, Galeria Bielska BWA, Bielsko-Biała
1998? Performance above all, performance above all, jubilee of 60th birthday of Zbigniew Warpechowski Zamek Sandomierski, Sandomierz
1998? Still the same, Labirynt 2, Lublin
1999? And yet the performance, BWA Zielona Góra
2000? Flow, festival ARTKONTAKT, Center of Art Performance CK and Gallery of Konto, Lublin
2001? Conversation, International Action Art Festival, Piotrków Trybunalski
2002? Conversation,? Andrzej Partum 1938-2002 ?, Galeria Kordegarda, Warsaw
2004? The Master Variant (with Zbigniew Warpechowski), Manhattan Gallery, Łódź
2006? Conversation, "Symposium of Radical Poetry", BGSW Słupsk
2006? This is a completely different story. Stories told? all similarities likely, Łódź Biennale
2007? Speech,? Survival 5 ?, Wrocław
2007? Private myths, as part of? My art history? cycle, CSW Warsaw
2008? Performance Character Suitcase, Polish Year in Israel, CCA Tel Aviv
2008? Everyday life, EPAF. European Performance Art Fetival EPAF, CSW Warsaw
2010? BEYOND JEST NOW (with Karolina Oleksik), Art and Documentation, Wschodnia Gallery, Łódź
2013-2014? performances on grand opening of? The day is too short. A few autobiographical stories? exhibitions, MWW Wrocław, BWA Jelenia Góra, Galeria Miejska Arsenał Poznań, Galeria BWA Sokół Nowy Sącz, BWA Kielce
2014? Prolegomena to economics from the kitchen. Thirty Years of the Wschodnia Gallery, Museum of Art, Łódź
Selected Individual Exhibitions
1991? Notes and diagrams (originals and fakes), Grodzka BWA Gallery, Lublin
1992? Objects, Arsenal Gallery, Białystok
1993? The artist's daily work, Galeria Stara, BWA Lublin
1994? A presentation as a break in the essence of the creative process, Moje Archive, Koszalin
1996? Texts, objects, models, BWA Sandomierz
1998? Still the same, Galeria Labirynt, Lublin
2000? Everything Different, ON Gallery, Poznań
2003? However, oblivion, Galeria Labirynt 2, Lublin
2008? Small chapters of great importance (everything as before, but reread), BGSW Ustka
2010? From no to yes. Works of 1980-2010, Galeria Labirynt, Lublin